President's News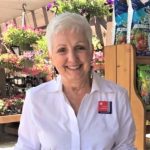 With snow and cold weather spreading up and down the state of Indiana, it's hard to remember the hot and long-lasting months of fall this year when we wondered if the joy of leaf coloring would take place. The summer was packed with club activities which supported and promoted community, youth, and club events. Fall programs were numerous, full of fun and with opportunities to share environmental knowledge.
It was my pleasure to visit all the District meetings during September and October. It is always educational and rewarding to hear about club activities and how much they support their communities.
While sharing details regarding the "Plant America With More Members" project, I found that many clubs are already actively seeking new members on all levels. I encourage your members to use the winter months to put together a plan for increasing your membership. Continue to think about educational programs, community needs, and ways to involve young people. I can't wait to see the results this coming year.
The national website has lots of great ideas on how to strengthen your club membership, www.gardenclub.org. Ask your District Director for a copy of "Join Us" published by the National Membership Committee which is full of supportive recruiting ideas.
The Garden Club of Indiana, Inc. will be partnering with Indiana Humanities by planting purple, yellow and white flowers in 2020, to celebrate the 100th anniversary of Indiana passing the 19th amendment for women to vote. This would be a great club project.
National has also put together another project idea to encourage members to Plant America with Trees in their communities. Each club or member could plant one native tree to reach the goal of 165,000 trees in the 2019-2021 administration. Another club award idea.
It is with sorrow I have to announce another passing of a state Board member, Noel Heymann, Container Gardening Chairman. Noel was a great influence and support not only to her Arbutus Garden Club, but also to her community. Please read her September state board report entitled "Sticks" in this publication. She will be greatly missed.
Have a safe and fun holiday season, stay warm this winter, and I'll see you soon.
Betty