President's News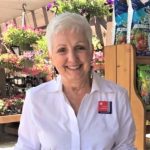 Hello Garden Club Members across the state of Indiana. We all have joked a lot in the past weeks about the rain, grumbled and still found ways to plant, weed, and enjoy being outdoors. Your clubs have continued to work on projects, share your knowledge and move forward. Thank you.
It was a great sadness when our State lost its Treasurer, Joyce Karns, who passed away June 13. Joyce was a tremendous person constantly working not only for the good of The Garden Club of Indiana, but also with many other organizations. Joyce will be missed, and we are grateful for the time and energy she gave The Garden Club of Indiana.
Please remember to Plant America with More Members. Reach out to new faces, mentor and help existing members, get involved in community projects where you can promote becoming a member. Your efforts will continue to plant the healthy environment necessary for the well being of man, beast, and insect.
Consider grants from companies who partner with National Garden Clubs (NGC). Go online to NGC's website (www.gardenclub.org) and check out grants under "Projects." NGC member clubs are eligible to apply for a grant of Ames tools for gardening projects performed or supported by the club between March 1 – September 30, 2019.
Or, check out NGC's partnership with The Espoma Company, manufacturer of organic fertilizers. Espoma is committed to environmental sustainability. Clubs who have been awarded their grant have used Espoma resources to beautify their local surroundings and improve the quality of life for friends and neighbors.
Continue doing what your club does best. Yours in gardening.
Betty