President's News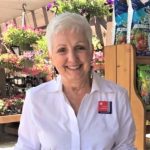 Hello all garden club members and welcome to 2020! A new and exciting year is ahead of us, and even though it may be hard to top the
great year your club had in 2019, I'm looking forward to seeing what exciting adventures you and your members have in the coming months.
Planning your club projects for 2020 should be fun and rewarding. State-wide we have the Centennial of women's suffrage plantings
working in conjunction with Indiana Humanities. Plan now to plant purple, yellow and white in your gardens.
Don't forget to take up the national challenge, "Each One, Plant One." National is challenging each member to plant one native tree in their community.
The President's Project, "Plant America With More Members" is in full swing, and several of our clubs have been awarded the new member gift.
You don't want to miss out on being a part of this fun project, so let us know about your new members by contacting our state Membership Chair,
Linda Cornelius, linda.cornelius30@gmail.com.
Our state will enjoy great events in 2020, starting with the state convention April 27-28 in Richmond, Indiana. This convention promises to
be very informative as well as a lot of fun, so put this on your calendar and watch for upcoming registration information.
And, our fall event this year, the Wildflower Workshop will be hosted by the Central District at Ft. Benjamin Harrison State Park in Indianapolis.
You won't want to miss this great event.
The Garden Club of Indiana will have the privilege of hosting the Central Region Convention October 19-21, 2020 at the Essenhaus Inn in
Middlebury, IN. So, mark your calendars for all of these great events and I look forward to seeing you there.
As you work on your club membership don't forget to reach out to the National Membership Committee (NGCMembership@gmail.com) for
assistance. They have worked tirelessly coming up with ideas and suggestions to help you.
"Garden clubs are a "best kept secret." Don't you think it's time we remedied that?
Betty